---
17th MAY 2014
Judge is appearing with David Jackson on Saturday 24th in Pavia, a town in South Western Lombardy, 35 km South of Milan. The occasion is another grand production of their show 'The House That Cried', staged on this occasion by UILDM the Italian Muscular Dystrophy charity, though, at the time of writing, Judge does not know exactly where the venue is in the town!
Judge and David will be opening the evening with the same short set they have performed at other productions of the show in Italy, consisting of 'Been Alone So Long', 'What Do The Lights All Mean' and 'Twinkle', both from their other show 'Twinkle', and 'Tonewall Stands'. They will be performing with local musicians.
---
17th SEPTEMBER 2013
'ZOOT SUIT' Judge's most recent album is now available as a 12″ Vinyl LP. Released on the specialist vinyl label 'Plane Groovy', in limited edition with numbered and signed copies. Read about it HERE.
---
16th SEPTEMBER 2013
Judge is now a published author! His book 'The Universe Next Door' published by CFZ Press. The book is not about music but is concerned with the Paranormal, a long-time interest of Judge's.
---
17th MARCH 2013
Judge's new CD 'ZOOT SUIT' is released today, and at the present time, is available exclusively from our on-line shop. Over the last year, Judge has worked on 'ZOOT SUIT' with American arranger and producer David Minnick, and the CD is only his third full-length collection of separate songs to be released in the last 20 years. Read more about it on the Zoot Suit page.
---
15th JUNE 2012
On 25 March 2012 André Steijns did a telephone-interview with Judge Smith for the Dutch radio show Paperlate Radio. (The interview is in English.) Judge and André talk mainly about the Orfeas album, with some of the music played as well. You can listen to the interview here (mp3, 25 MB):
---
13th APRIL 2012
Gonzo is the new distribution company for Orfeas and The Climber since April 2012. They put two interview podcasts on their website:
Interview about Orfeas: www.gonzomultimedia.co.uk/radio_shows/96
Interview about Curly's Airships: www.gonzomultimedia.co.uk/radio_shows/97
An entire blog-page about Judge: www.gonzo-multimedia.blogspot.co.uk/search/label/Judge_Smith
More interviews and reviews are on the Orfeas Reviews page.
---
13th NOVEMBER 2011
The performance of 'The House That Cried' in Como, Italy on 6th November has been a success. Here's a photo of the show by Marco Brienza. In the left you can clearly see David Jackson. (Click to see a larger version of the photo.)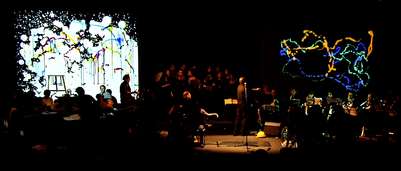 Here you'll find a page with several photos, by Mark Uwland. Another performance of The House That Cried will take place on 20th November in Chiasso, Switzerland, at Cinema Teatro Chiasso. You can find the Chiasso-poster here (pdf, 3,6MB).
---
13th OCTOBER 2011
David Jackson and I will be leading performances of 'The House That Cried' on 6th November in Como, Italy, and on 20th November in Chiasso, Switzerland. It has now been confirmed that the Como gig will take place at Teatro Sociale di Como, Via Bellini 3, Como, CO 22100 ITALY (theatre doors open 17:30, concert begins 18:00). The Chiasso gig will take place at Cinema Teatro Chiasso. You can find the Como-poster here (pdf, 2,5MB), and the Chiasso-poster here (pdf, 3,6MB).
David and I will be performing a short set before 'The House That Cried' with a band of Italian musicians. We are planning to do four numbers; a Judge song, a Jaxon number, and two songs from David and Judge's show 'Twinkle'.
---
23rd MAY 2011
'Twinkle', the musical entertainment for children by David Jackson and Judge Smith will be receiving its third production on the 27th May 2011 at Lecco, in Lombardy, Northern Italy, on Lake Como, performed in an Italian translation, under the auspices of CRAMS, the musical and educational organisation of Lecco. The performance is at 21.30, and apparently is in a steel-works, and on a very large scale;
Viale Brodolini, 18, Area MAB-ATO, localitá Rivabella, Lecco.
The following day, David Jackson is doing a special duo gig:
May 28, 2011 (21:00)
DAVID JACKSON sax
FRANCESCO D'AURIA percussions
Special guest – Judge Smith!
Convento di Santa Maria la Vite – Via Albegno, 1/A OLGINATE, Lecco 23854 ITALY
For infos: www.ilmelabo.it/#DAVID
I will be singing a couple of songs with them, both from 'Twinkle'.
---
11th NOVEMBER 2010
Judge will, once again, be performing in his and David Jackson's 'The House That Cried' in Northern Italy. The performance, with choir, brass, rock band and sound beam ensemble, will be on Friday 19th November in Besana Brianza, at the Edelweiss Theatre, Piazza Cuzzi, beginning at 19.00.
Judge will be remaining in Italy to assemble and Master his new Songstory CD 'Orfeas' at LoL Studios in Nogaredo. 'Orfeas' is scheduled for release early in 2011.
---
15th OCTOBER 2010
Here are links to a few Internet pages that may be of interest:-
---
24th AUGUST 2010
Judge & John Ellis are to play at the Specially Dedicated Festival at Halls Green, Weston, near Stevenage: Saturday, September 4th 2010.
This festival is organised in aid of MacMillan Cancer Support and is centred around The Rising Sun pub in Halls Green. Tickets are available, price: £7.50, from We Got Tickets.com.
Judge and John are scheduled to play on the main stage at 4.30 pm and are planning a 40 minute set.
---
17th JULY 2010
There is now a page online with photos from the concert David Jackson and Judge Smith did in Triuggio, on 15th May 2010.
---
9th JUNE 2010
Judge will be interviewed by Johny Brown for The Resonance FM show,
on Friday 25 June. This will be the Johny Brown show Mining for Gold, from 11.30 pm to 12.30 (http://resonancefm.com/).
Judge will be on for the full hour, with John Ellis, and they will be doing some live music, a couple of songs, at least.
Also, an interview with Judge will be going out on a website called
www.voicecouncil.com, a commercially-run site for vocalists. The
first part of the interview is going up on 14 June, the second part a few weeks later.
---
13th MAY 2010
Read Judge's Newsletter about the distribution deal, The Climber, the live performance 15th May in Italy with David Jackson and the recording of the new CD on the page 'Newsletter May 2010'.
---
22th APRIL 2010 (updated 29 April)
On 15th May 2010 I will be appearing with David Jackson in Monza, Northern
Italy. There is a performance of our children's piece 'The House That Cried'
which features a choir, a wind and brass ensemble, rock instruments and a
Soundbeam ensemble. David is playing sax, naturally, while I play a demented
Major.
This will be the third time we have done this piece in Italy, but for the
first time, we are also performing a set with a band in the first half,
doing a couple of songs from 'Twinkle' (our other work for children) and
about three other numbers.
The gig will be at:
CineTeatro San Luigi
Via Marconi, 1
Triuggio
At 9:00 pm
Italian info number: 0341-250819
Email: lecco@crams.it
The organisation putting on the show is Crams – Fondazione Provincia Monza
Brianza.
I must also report here that, on 12th of March, there was a performance of
'Twinkle', the children's piece by David Jackson and myself, at the
Lighthouse in Poole, Dorset. This was the second presentation of this work,
and it was a splendid and massive production involving a children's choir of
about 200, a brass ensemble, a string section from the Bournemouth Symphony
Orchestra, an electric band, a large Soundbeam ensemble, and what must have
been at least another hundred child performers on stage.
Jaxon's music is very fine, and irresistibly catchy, and I am very proud of
playing a part in creating the show.
Here is a link to a review from the local paper:
http://www.bournemouthecho.co.uk/leisure/music/reviews/5059973.Twinkle_BSO_Res
This review is no longer available.
---
20th JULY 2009
There now is a page online about Judge's adventures in Bergen last Spring. Read all about the world premiere of 'The Climber', about the progress of 'Orpheus', and much more.
---
6th FEBRUARY 2009
I will be performing two or three numbers with John Ellis as an opener for
his solo Looprovisation gig on Friday 13th at the Luna Lounge, Leytonstone,
London E11. Details on John's page at www.myspace.com/wabisabi21c
---
4th FEBRUARY 2009
It now seems certain that I will be performing the premiere of 'The Climber'
in Bergen, Norway with a Norwegian male-voice choir on Saturday 9th May
2009.
'The Climber' is a Songstory which
I composed in 2005 for me to perform and record with an Italian mountain
choir. Unfortunately this collaboration did not come to fruition at the
time, but finally, due to the wonderful support of co-arranger Ricardo
Odriozola, the 'Avgarde' organisation
of Bergen has taken on the project.
The work lasts about 40 minutes and is scored for solo voice (Judge),
male-voice choir (singing in English) and Double Bass.
Unlike 'Curly's Airships', the story of 'The Climber' is fictional, and
tells of a British amateur climber's misfortunes while mountaineering
in the Italian Alps in the 1960's.
At the moment, I do not have any further useful details to pass on about
the venue, the availability of tickets and so on, but I will soon be able
to post these on the site as well.
I plan to record the work; the recording to take place a few days after
the performance, with the intention of releasing it as a CD.
While I am in Bergen, I will also be delivering a lecture to music students
of the Grieg Institute.
---
12th NOVEMBER 2008
Judge is happy to let you know that his computer-problems have
been resolved, and that no important data was lost.
On October 17th Judge was interviewed by Johny Brown in his Mining For Gold show on
Resonance FM. Earlier that evening there was a surprise appearance by Judge at the Looprovisation gig John Ellis did
with Michael Ward-Bergeman at the Luna Lounge. They did one song together, which was 'Carpet Tiles'.
You will find a page about that evening here.
---
8th OCTOBER 2008
Due to a computer-crash Judge has lost some personal data and is
temporarily offline. He expects to be online again soon, but
unfortunately it's possible that some data will be lost forever,
including email addresses. So if you're waiting for a reply that
won't come, please send your email again in a few weeks. Judge is
sorry for any inconvenience.
Judge will be returning to Johny Brown's Mining For Gold show on
Resonance FM which broadcasts on 104.4 FM in London and on the
internet everywhere from http://resonancefm.com/
The date is Friday October 17th and the show is on at 11.30 pm.
There was a bit of a problem with Resonance's outside recording team
last time, but this one will be live in the studio so the sound/volume
should be fine.
---
31st AUGUST 2008
Recording has begun on Judge's
new Songstory 'Orpheus'. David Shaw-Parker (soon to be seen
in Oedipus Rex at the National Theatre) has recorded his musical segments
as the bard Anachronistes, who acts as narrator from time to time, and
Judge has just returned from Northern Italy where he has been recording
backing tracks for six instrumentals, supposedly performed, in the course
of the piece, by the George Orpheus Band. These sessions featured John
Ellis (Guitar), Gigi Cavalli Cocchi (Drums), Marco Olivotto (Bass) and
Bert Santilly (Accordion).
The results produced by this surprisingly
beefy rock band were very exciting, and auger very well for the rest of
this very complex and varied project. 'Orpheus' is planned
to be completed and released on CD some time next year.
In July, Judge celebrated his 60th
birthday with a lunch party at The Grand Hotel, Eastbourne. The seventy
guests were entertained, after the meal, by a mini-gig featuring (in order
of appearance) David Shaw-Parker, performing a Jake Thackeray song, David
Jackson, with a solo soprano sax number from 'Twinkle', Judge
and John Ellis, doing a new Judge song 'The Selfish
Shellfish' and a new version of 'Carpet Tiles', and
bringing the entertainment to a fitting end, Arthur Brown, performing
his acapella version of 'Jerusalem'.
---
18th AUGUST 2008
Recently, Judge was mentioned in
a new book, 'Sussex Music', by Marcus Weeks, a fascinating
and beautifully produced review of the music and musicians associated
with the county.
From the chapter on Rock and Pop:
'The progressive rock that followed
on from the psychedelic late 1960s brought its share of stars too, among
them Keith Emerson (born 1944), keyboard player with The Nice and Emerson
Lake and Palmer, who grew up in Worthing; and Judge Smith (born 1948)
who started his career as drummer in prog-rock band Van der Graaf Generator,
and went on to carve a successful career as a composer of musicals and
rock operas, including the extraordinary 'songstory' Curly's
Airships (the story of the R101 airship disaster in 1930), from his home
in Polegate.'
The book is part of the remarkable
'Sussex Guides' series published by Snake River Press, and
is available from www.snakeriverpress.co.uk.
---
2nd APRIL 2008
A few worthwhile items to tell you
about:
After a very fraught period of upgrading
the computer equipment in Studio Judex, work has finally begun on 'Orpheus'
the long-delayed Songstory which is intended to feature the work of, among
others, John Ellis, David Jackson, Michael Ward-Bergeman, Gigi Cavalli
Cocchi, Marco Olivotto, David Shaw-Parker and Lene Lovich.
Early in March, I spent a few days
in the Norwegian city of Bergen, working with the conductor/composer/violinist
Ricardo Odriozola, of the Grieg Institute. Together, we have finalised
the score for the English language version of my previous, and as yet
unperformed, Songstory 'The Climber', which is written for
me to perform with a male-voice choir and double-bass. It's a privilege
and a pleasure for me to work with this distinguished musician, and I
hope the next few months will bring some exciting new news about the future
of this significant project.
I recently recorded an interview with
Johny Brown from Resonance FM, the London 'alternative music'
radio station. To quote their website:- "Resonance104.4fm is bringing
a multitude of experimental sound, new music, radio art and interaction
to the capital's airwaves. Resonance104.4fm broadcasts from the
heart of London and is simultaneously streamed on the web at www.resonancefm.com,
where you can also check out our full programme listings."
Johny presents his innovative 'Mining
For Gold' program for an hour every Friday at 11:30PM, and he tells
me that the entire show on 2nd May will be devoted to this interview,
and the L-RAD album 'Long Range Audio Device'.
On the subject of L-RAD, here is a
link to Julian Cope's influential website 'Head Heritage',
where (about halfway down the page) the great man reviews the 'Long
Range Audio Device' CD.
www.headheritage.co.uk/addressdrudion/106/2008
Finally, on 18th April, I will be
in the Northern Italian city of Lecco, with David Jackson, for another
performance of 'The House That Cried', with the same musicians we worked
with last September.
---
14th NOVEMBER 2007
Judge Smith will be on Total Rock Radio on Saturday 17th November 2007, being interviewed by Malcolm Dome on his programme 'Doom & Co – 4 decades of progressive rock, metal, psychedelia & blues' which is on the air from 18:00 to 21:00, UK time.
Judge will be with Malcolm from 19:00 to 20:00 and will be playing the current 'Tribal Elders' single, and for the first time, airing tracks from the newly completed album 'Long Range Audio Device', the first CD by L-RAD, a collaborative project featuring Judge and American artist Steve Defoe. This music represents a complete departure for Judge, and is not easily described, though the recent comment, 'How can something that weird be so accessible?' might help. 'Long Range Audio Device' will be available on this site before the end of the year.
The London-based Internet station Total Rock can be accessed at www.totalrock.com.
---
2nd OCTOBER 2007
The first single from The Tribal Elders is now officially Released and is available on this very website. (I think you definitely need a copy.) Check out the new pages for the project, if you haven't seen them yet.
---
29th SEPTEMBER 2007
The Lecco Festival was apparently smaller than in previous years, but it was very much Jaxon-themed, and huge bill-boards carrying his photo were to be seen around the town. The festival centre, and our B&B, were high on the foothills of the extraordinary, almost vertical, mountains that encircle the whole place; in a medieval village, now a part of Lecco city. It was very picturesque. The hospitality was fantastic; the people, a delight, and Jackson was a dynamo of energy and inspiration.
The big concert, in a magnificent period theatre, featured a suite from Jackson's Anvil Rings followed by a performance of The House That Cried, a piece we wrote together about twelve years ago. It was, I think, pretty impressive, although such a complex show really needed far more rehearsal time and technical back-up. The orchestra and choir were very fine, and I certainly enjoyed myself thoroughly, capering about in a Victorian military mess uniform. (It was my first time on stage for some time.)
There were also some great concerts on a stage in a city centre square, including a band of local seventeen-year-olds, led by Jaxon, blasting their way through Man-Erg and Killer in a very creditable way.
And my lecture on Artistic Inspiration? My reputation as a fascinating and dynamic speaker had obviously gone before me, and I managed to attract THREE people.
---
7th SEPTEMBER 2007
It has been an entire year since I posted any news on this page. What a disgrace! What on earth has he been up to all this time? Perhaps he's slowing down.
In fact I've been very busy the whole year, with two new Songstories to work on, a new album virtually complete and a single (not taken from the album) at the factory, as we speak. This is not to mention spending some time in Southern India (an astonishing experience) and the premiere of 'Twinkle', the large scale children's music-theatre piece composed by David Jackson to my libretto. (This, at least, should have been up on this news page, but it just didn't happen. However, as you can read below, such idleness and incompetence will now be a thing of the past.)
More about the new records later, but for now, here's a couple of concrete announcements:-
Judge and David Jackson will be appearing at the Lecco Festival in Northern Italy on the evening of Sat 22nd September, when I will be singing the only adult role in 'The House That Cried', a children's piece we wrote together some years ago. (A version of David's 'Beam Machine' will also be performed).
David and I will both be presenting seminars at the Festival, and mine will be a single-session workshop on the subject of 'Inspiration': "…What is 'Inspiration'? Where does it come from? Is it possible to make inspiration 'happen'? Judge proposes some radical techniques for encouraging this precious and unpredictable phenomenon, and for taking the fullest advantage of it when it occurs. This talk will be given in English."
Now, it is with great pleasure that I can tell you that judge-smith.com now has a proper, active webmaster for the first time since the wonderful Harry Wykes died at the end of 2005.
Laura Josepha Hendricx from the Netherlands is an IT professional with extensive internet experience, who seems to enjoy my music enough to make her want to take on the job of maintaining and improving this site.
This is wonderful news for me, as I have been only too well aware that the site has been stagnating of late. Together, I hope we will be able to provide a more dynamic and extended web experience for visitors.
---
12th SEPTEMBER 2006
NEW ALBUM JUST OUT. THE VESICA MASSAGE is Judge`s latest album and is a new departure for him an instrumental album of uniquely relaxing melodic music,designed to be the perfect accompaniment to Therapeutic Massage or other touch-based therapies. Soft piano, gentle strings, ethereal voices and sweet electronics perform memorable, original melodies in the relaxing, peaceful rhythms of lullaby and barcarole.
However THE VESICA MASSAGE has an appeal far beyond the Treatment Room, and anyone who loves melodic music with the accent on deep relaxation will find much to enjoy on this CD.
The JUDGE-SMITH.COM website has free samples from every track of the CD to listen to, and to those who are understandably wary of anything that might be classified as New Age Music, Judge writes:
………I can promise you there are no endless drones, and no pan-pipes, didgeridoos, tribal chanting, sounds-of-the-rain-forest, or whales. The album is the result of a long process of composition that has been as challenging and rewarding for me as anything I have ever attempted. I thought that I might be able to make a decent job of it, but I had no idea that such great tunes would fall out of the sky for me to use. There are a few melodies here that are as good as anything I've ever done……….
---
AUGUST 2006
A lot of my time over the last year has been spent working on a major project called 'The Climber'. This is a forty-minute songstory, but it's very different animal to 'Curly's Airships'.
While I was in Northern Italy, mixing 'The Full English', I met 'La Noghera', an Alpine Choir from Nogaredo, the village where LoL Records is based. There is a vibrant tradition of these unaccompanied male-voice choirs in the Italian Alps, and 'La Noghera' are one of the best, with an extraordinary and haunting sound (their CDs are available from LoL Records – http://www.lol-records.com/)
I became fascinated with the idea of writing a piece for me to perform with them, and 'The Climber' is the result. It is a story about a rather cold and tightly-wrapped English mountaineer who visits an alpine resort in the Trentino region to go climbing, sometime during the '50s or '60s. He has a life-changing experience when he ignores advice from the local guides, gets into trouble on the mountain, and is lucky to escape with his life.
I sing the part of the Climber, in English, while the Choir, who represent the locals; mountain guides, hoteliers and so on, will sing in their local Tridentine dialect. It is, in part, a story about culture-clash and failed communication, and this conflict is mirrored in the dual languages of the text.
It is a very complex project. My lyrics for the Choir have had to be translated into Tridentine dialect, and this difficult task has been carried out with great style and skill by Marco Olivotto of LoL Records, himself a native Tridentine speaker. As for the music, my own technical abilities fall well short of being able to orchestrate the Choir parts, and this work has been carried out by my friend Michael Brand, the arranger and conductor, who I worked with first on my (as yet unrecorded) Requiem Mass of 1975, and then again in 1992, as librettist of his 'Pioneer 10' cantata for Choir and Brass Band. It's been good to work with this talented man again.
We are still some way away from being able to say when, where or even IF the work will performed and recorded, but the overall plan is for performances to take place next Summer. Everything is still very much in the laps of the mountain gods, but I will certainly ensure that any concrete information is made available as it comes. This project is very important to me and, if all goes well, could be my most significant work since 'Curly's Airships'.
---
26th APRIL 2006
I have just done an interview for an extraordinary website: www.whiskyfun.com. This is a large and popular site dedicated to malt whisky, with hundreds of tasting guides, and loads of other stuff to delight the whisky buff. However, the site also maintains a strong music content, with artist interviews, and CD and concert reviews. Well worth a visit, I think
In ten days or so, the above URL for my interview will change, as the piece moves from their front page, and you will then be able to find it at: www.whiskyfun.com/archiveapril06-2.html#250406
Mine's a large one. Cheers!
---
YAHOO! GROUP
There is a Judge Smith Yahoo! Discussion Group that has been running on the Internet since January 2005. It is an open group, and there are currently 56 members and over 300 posted messages. This Group is completely independent, and has no connection with any record company or with my websites (I'm not even a signed-up member.) However, it's full of lively comment and debate, and I can thoroughly recommend a visit to anyone interested in my work.
http://groups.yahoo.com/group/Judge_Smith/
The existence of this group is the reason that I decided to close the Curly's Airships Wireless Room discussion page for the time being. I got a tremendous kick from the Wireless Room and the wonderful people who posted such supportive, interesting and hilarious stuff there. All of you have my profound thanks. However, since there have been no big developments going on for a while, regarding 'Curly's Airships' itself, the Yahoo! Group now seems a more appropriate forum, and there is no more sad a sight than a discussion page with no one posting on it.
Judge, 29/03/06
---
LoL Records Judge Smith Newsletter
LoL Records, who put out 'The Full English' CD and the 'Live In Italy' DVD, issue an occasional Judge Smith Newsletter, sent out by e-mail. The first edition is available now, and it's a terrific production. Just send an e-mail to judgesmithnews@lol-records.com and ask for it. (See news entry for 14th March 2006, below.)
---
DOME OF DISCOVERY
This was my first legitimate solo studio album, released by the wonderful Oedipus Recs in 1994, and though it was mixed by the redoubtable David Lord, I ran out of money before I was able to undertake a final Mastering process before the CD was manufactured. At that time, Mastering could be carried out properly only by experts, working in specialist Mastering Suites equipped with expensive and esoteric kit. The rights to the album reverted to me some time ago, and in 2002. I revisited David Lord's studio, where the great man was now able to 'Master' with the best of them, using a new generation of computer software, and after eight years, we finally gave the album its finishing touch.
The Mastering processbeefs-up, enhances and improves the sound of already mixed tracks, making weak stuff sound okay, and good stuff sound fantastic. It can be like turning-up the knob marked 'Better'. Dome Of Discovery, with its strange mix of instruments and curious sound-world, certainly benefited in a big way. It was now louder, crisper and a lot more solid.
However I did not then, or even now, feel really justified in re-issuing the CD, even though I'd love to get a better cover put on it as well! Re-mastered re-issues can be seen as ripping-off collectors, and there are no bonus tracks I could legitimately add to the thing. However, LoL Records' new ability to offer albums for download on the iTunes website suggested a compromise solution to me.
Accordingly, the new, Mastered version of Dome Of Discovery is currently available as a download from the iTunes site. You'll need to be signed-up and have the iTunes software, but here's the link for all you pod-heads:
http://phobos.apple.com/WebObjects/MZStore.woa/wa/viewAlbum?id=130054170
(You need to have iTunes installed to use the link and to buy the album.)
---
14th MARCH 2006
As you may know, Judge now has a relationship with LoL Records, the Italian record label who put out 'The Full English' last year. They are about to release a rather wonderful concert DVD, 'Judge Smith – Live In Italy', and they also now offer, among other things, a re-mastered, and very much better sounding, version of 'Dome Of Discovery' for download on iTunes.
These good people are going to issue a 'Judge Smith Newsletter' from time to time to keep enthusiasts up to date on his activities. The first issue is available now; it's colourful and illustrated, and frankly it makes our occasional e-mails to you look rather tame.
It's completely FREE, and Judge thoroughly recommends that you subscribe to it. You can do this simply by sending an e-mail to judgesmithnews@lol-records.com. You can just put the word 'subscribe' as the body of the message, or anything else you like! The Newsletter will be sent to you as pdf file of about 400 Kb.
Your e-mails will be processed by a Human Being, not by a software robot, and we can assure you that subscribing will NOT result in you receiving additional Spam, or sales pitches for other artists.
We would of course never pass your e-mail address on to a record company or any other organisation, and we will still continue to keep you informed directly of any important developments about 'Curly's Airships', or any new projects in which LoL are not involved (in fact, you can expect another mail from us in a week or so) but meanwhile we hope you will take advantage of this new means of keeping in touch with Judge's music, which is moving in some surprising and unexpected directions.
---
1st FEBRUARY 2006
Oh Boy! Further to the Round Robin mail I put out about my gig on Thurs Feb 2nd. I heard a few hours ago while rehearsing in London, that the cancelled Pete Brown's shows for Thurs & Friday, so I WILL NOT BE STRUTTING MY FUNKY STUFF after all, and I'm pretty fed up about it.
Please forgive my sending this, but one or two people might be planning to turn up. I hope to goodness that this catches you. Once again, sorry to mess people around, but this is truly out of my control.
---
20th JANUARY 2006
A JUDGE GIG IN LONDON
There is a rare opportunity to see Judge Smith perform live on February 2nd, when he will be appearing at The 100 Club in Oxford Street supporting Pete Brown and the Interoceters. Judge will be taking the stage with guitarist John Ellis and pianist/accordionist Michael Ward-Bergeman for a 45 min set.
Doors open at 7.30 pm.
THE JUDGE-SMITH.COM WEBSITE
Judge's website, www.judge-smith.com, the 'parent site' for www.curlysairships.com, remains incomplete due to the recent unexpected and tragic death of the Webmaster, Harry Wykes, who also designed the wonderful Curly's Airships site.
Despite this sad loss, of a close friend as well as his webmaster and IT guru, Judge anticipates being able to re-launch an expanded and improved site within a few weeks, but in the meantime, he would like to assure you that both sites remain fully operational as regards on-line sales, guest books and enquiries.
---
4th OCTOBER – 10th OCTOBER 2005
Judge in Italy to rehearse for concert in Guastalla, Italy on 8th. Concert filmed for DVD. See Home Page for full story.
---
19th JUNE 2005
THE NEW JUDGE SMITH WEB-SITE
The new website at www.judge-smith.com is now fully on-line with all its features operational (except the Gallery, which is still closed while the Curator agonizes about what pictures to hang.)
There is plenty to read, including all the lyrics of the new album 'THE FULL ENGLISH' with Judge's notes, and a long article about how the CD was made.
There are also free downloads from six tracks of the album, and a Guest Book for any messages you may wish to leave.
JUDGE ON TOTAL ROCK RADIO
Judge will be fishing-out his 'Napalm Death' T-shirt for an interview on Total Rock Radio ("For those who rock hard, Total Rock spins from the metal end of the rock spectrum.")
On Saturday 2nd July, He will be talking to Malcolm Dome on 'Doom & Co Live'("4 Decades of progressive rock, metal, psychedelia & blues") between 18:00-21:00, and playing tracks from 'The Full English' and 'Curly'Airships'. The station is available across the UK digitally, on Sky Digital channel 938, and it is streamed on the Internet at www.totalrock.com.
---
25th MAY 2005
Judge's first record release since 'Curly's Airships' is now available.
THE NEW ALBUM
In fact, this is the second Judge CD to be recorded at Studio Judex, his new digital facility, but it is the first to be released. THE FULL ENGLISH, was recorded for the Italian label 'Labour Of Love', and was mixed by Producer Marco Olivotto at their studio in Northern Italy. THE FULL ENGLISH is a album of songs, rather than a songstory like 'Curly's Airships', and it's a single CD rather than a double. It features Curly guitarist John Ellis, and the American accordionist, pianist and organist, Michael Ward-Bergeman, with another Curly crew member, René van Commenée providing drums and percussion.
Featuring mostly acoustic instruments, the album has an 'unplugged' feel, and showcases a collection of Judge's songs that are as original, unusual, and instantly memorable, as one would expect from this unconventional and surprising artist. It is, perhaps, his most immediately accessible album to date, and despite having a very different sound, it certainly will not disappoint lovers of 'Curly's Airships'.
A NEW WEB-SITE
A new website www.judge-smith.com has been launched, and THE FULL ENGLISH is now on sale there. It has the same Webmaster and will provide the same 'Masters Of Art' personal service. The new site will cover Judge's whole career, and will feature extensive articles, galleries, interviews and music downloads. It will of course be linked to the Curly's Airships website www.curlysairships.com, which will be having a spring-clean to celebrate.
The site's full list of features will be uploaded over the next couple of weeks, but the on-line shop, 'Judge Smith's Emporium', is open now for business.
CURLY'S AIRSHIPS
Judge is still committed to exploring ways to bring Curly to wider audiences, both in its recorded form, and as a live performance piece, and at least one exciting new initiative is currently being pursued.
Meanwhile, the 'Curly's Airships' CDs continue to sell steadily around the world, and they generate an overwhelmingly enthusiastic response wherever they are heard.
Thank you for your interest and support.
---