Description
IMPORTANT NOTICE:
FOR THE FIRST TIME, STREAMING AND DIGITAL DOWNLOADS OF THIS ALBUM, COMPLETE WITH ARTWORK AND LYRICS, ARE NOW AVAILABLE FROM BANDCAMP. GO TO MY BANDCAMP PAGE HERE.
TOWERS OPEN FIRE is a band featuring Judge Smith, vocals, and guitarist Brakeman, plus guest musicians. They are based in Glastonbury.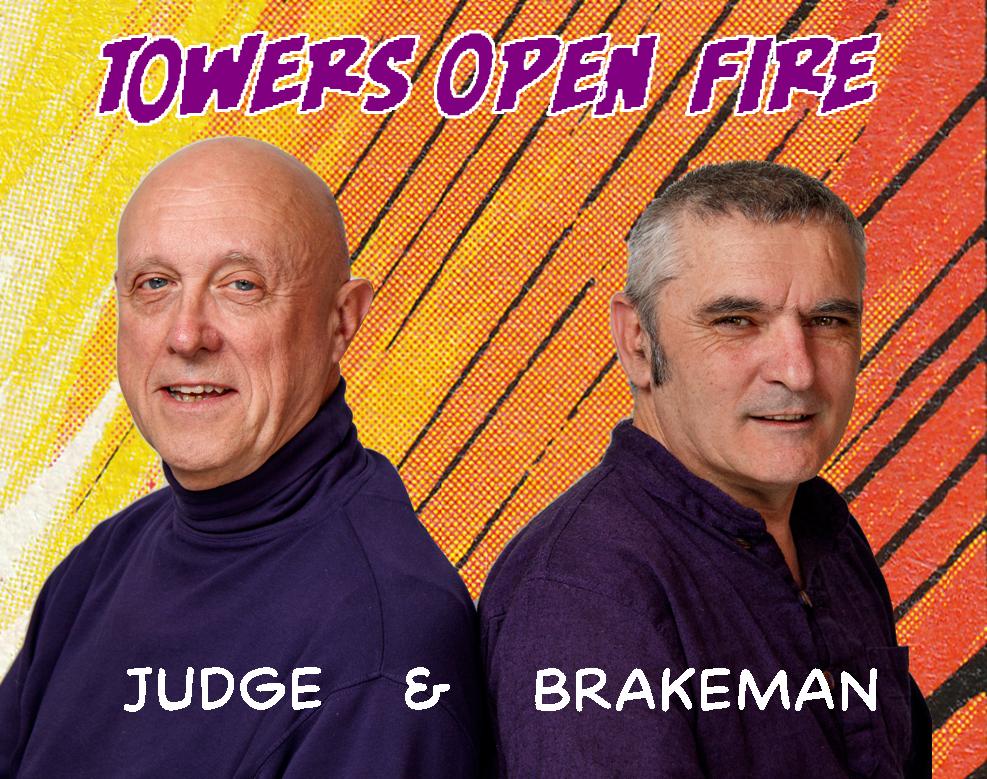 TOWERS OPEN FIRE is also the title of their first album. This was formally released on 12th June 2020, but pre-release copies were available here from around the 8th of January.

                  Photos by Seán Kelly (top) & Noel Dacey
TOWERS OPEN FIRE features the results of the recent song-writing collaboration that Judge has undertaken with Brakeman, whose unique open-tuned guitar technique produces musical textures for their songs that are like no other. These tracks are memorably tuneful, with literate, ingenious lyrics. This album also features the Glastonbury musicians, percussionist Tim Gallagher and 'Cellist Gerry Barnett.
TOWERS OPEN FIRE has eleven tracks with a total running time of over 55 mins, and is presented in the 'Masters Of Art', military-grade super-jewelbox format with a comic-book-style 12 page booklet and full lyrics.

Limited numbers of pre-release copies are only available from this webshop, and will be SIGNED BY JUDGE AND BRAKEMAN.
For more information about the band including concert videos and gigs, see their band website http://www.towersopenfire.co.uk/
---
Samples from each track of the album
01. Nothing Much Matters
02. Let's Get Strange
03. The Circular Groove
04. Been Alone So long
05. Oldthinker Unbellyfeel
06. Screeching U-Turns
07. Fighting The Long Defeat
08. Towers Open Fire
09. So Sure
10. Bring It On
11. The Drive Remains